Serval Baby, Georgeous female out of Goose and Annie. She was born March 5, and went to Barn Hill Louisana presereve as an ambassador kittie. Remember the regulations on my site that I have to live with from fish and game.

Princess and Imotep had a new litter Born 9/5/17. Shown here at two weeks (see princess page for pictures) there are two kittens. the first 4 pictures are the male and the next 4 are the female. Beautiful, fat little babies!
They should be ready to go on Halloween when they will be 8 wks old. They are F6 generation, but they are high percentage at 13%. The Queen is 20% Serval, and the stud is 6%. Both the queen and stud are large cats. Princess has a lovely personality, very affectionate and loving. So far all her kittens have had that wonderful personality. Both are for sale. Call evelyn at 480-619-1682 for more info.


(two sleepy Bengal kittens)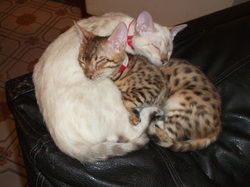 My new e mail is donadougherty@hotmail.com

How to win a kitten/cats heart.

1. Approach him gently, softly, slowly, quietly. Stroke him first so he knows your intentions are friendly before picking him up.

2. Do not hold him in the middle or by the chest, with legs dangling, support all four paws as you hold him.

3. Hold him close to your chest, he loves the sound of your heart, like his mamas heart when he was little.

4.His hearing is sensitive, do not make loud noises to startle him, or holler at him.

5. He is a small animal and the worst thing you can do is to make him feel trapped. He must feel free to leave if he needs too and then he will stay with you.

6. The first thing he wants is love, the second is food. A cooked chicken treat will earn you points.

7. He wants to play, a feather toy is a bird. Don't dig him out from under the chair etc, entice him out with a toy.

8. don't ignore him for days and then expect him to fall into your lap when you have time. Make him part of your daily routine.

9. He is smart, he will know something the first time he is taught.

10. He will not share you easily, if you bring another pet into the house be prepared to give him time to adjust. and 4 days is not enough.
Notes by DonaMae


---
These are some pictures of our property and our Serval cats. We have 2 1/2 acres in the county purchased specifically to make our cats as comfortable as possible. The original habitat is 32 feet across and 12 feet high, a hexagon with rooms added on. Later we added two more habitats. We believe they need and desire privacy, as well as a window to nature, lots of birds and rabbits to look at. Also lots of shade. Volunteers and friends assist us in maintaining a clean, cheerful, healthy environment.